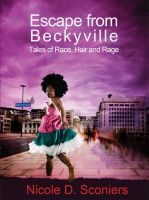 Ebook By
Nicole Sconiers
Rating: Not yet rated.
Published: June 27, 2011
Category:
Fiction » Fantasy » General
Category:
Fiction » African American fiction » Contemporary woman
Words: 74533 (approximate)
Language:
English
In "Escape from Beckyville: Tales of Race, Hair and Rage," go inside a futuristic Los Angeles where female wraiths prey on black women for their hair, southern maids possess superpowers and black women live in fear of being stopped by the Rage Patrol. In these ten twisted and provocative tales, Nicole D. Sconiers tackles issues of race in witty, haunting and terrifying ways.